master formulation record of Ofloxacin tablets
GENERIC NAME: MFR OF Ofloxacin Tablets
A. MANUFACTURING PROCESS:
Manufacturing Instruction :
a. Area and equipment:
1. The area should be free from unwanted materials as well as materials from the last batch.
2. The equipment to be used should be labelled for product Batch No. and date prior to use.
3. The equipment to be used should bear a clean equipment tag and wash water analysis report releasing the equipment should be available in case of product change over.
b. Personnel :
1. All personnel should be in good health and should practice good sanitation habits.
2. Personnel engaged in the manufacturing, processing, packing or handling of a drug product should wear protective apparel such as head, face, hand and arm coverings, necessary to protect the product from contamination and vice versa.
c. Raw materials and packaging materials:
1. All ingredients and packaging materials must be tested for conformance to written specifications.
2. Weight and volume of all ingredients should be checked by two authorised production personnel.
d. Production and Process Control:
1. Production records must be complete and accurate reflecting all procedures and process adopted during production.
2. Batch should be fabricated strictly as per the written procedures and deviations in the process should be approved by authorised person.
e. List of Equipments Used In The Manufacturing Process
1. Vibro sifter
2. Rapid Mixer Granulator
3. Fluid Bed Dryer
4. Multi mill
5. Octagonal Blender
6. Compression machine.
7. Alu-Alu blister packing machine
  Manufacturing Process :
1. Dispensing:
Dispense all raw materials as per issue Raw material sheet (weighment sheet).by or Software Label all materials.
2. Sifting :
a) Sift the Ofloxacin through 30# and Starch60 # Sieve, using a Vibro sifter.
b) Lubricants materials i.e. Purified Talc, Sodium Starch Glycolate, Magnessium Stearate



and Colloidal Silicon Dioxide Sift through 40# S.S. Sieve using a Vibro sifter.
3. Dry mixing: Mix the ofloxacin and starch in RMG for 15 min.
4. Binding:
Prepare the paste of starch, PVPK30 and DM water with preservative Sodium benzoate.
5. Wet Granulation: Add the prepared paste in the RMG and prepared wet granules.
5. Drying:
Dry the wet granules by Fluid Bed Dryer.
6. Blending
Sifted dried granules and lubrication transfer to Octagonal blender and mix for 30 min.
Lubricated granules collect in LDPE double poly bags.
7. Control points:
a) During Sieving "USE FACE MASK AND GLOVES".
b) Check sieves for integrity before and after sifting of each ingredient.
c) Check for any residue retained on sifter sieve, record in the Batch Manufacturing Record.
8. Analysis:
Inform the Quality Assurance chemist to collect the sample for Analysis of lubricated granules.
And send to quality control department for sample analysis. After getting approval from Q.C proceed for compression.
9. Compression:
Compress on 27 station "D tooling" double rotary machine using round shape, biconvex punches, scored on one side.
Weigh and record the weight. Inform the QA chemist to collect the sample for Analysis of compressed tablets
to QC department. Store the tablets with label in the double polythene lined drums. Protect from
light and moisture. After getting approval from Q.C transfer for packing to packing department.
| | | |
| --- | --- | --- |
| S. No. | Parameters | Specifications |
| 1. | Description | White coloured, round shaped biconvex scored on one side uncoated tablets. |
| 2. | Avg. Wt. | 248 mg ± 5mg |
| 3. | Individual Wt. variation | ± 5.0% |
| 4. | Friability | NMT  1% |
| 5. | Hardness | NLT 3.0 Kg/cm2 |
| 6. | Thickness | 3.8 ± 0.2 mm |
| 7. | Diameter | 9.60 ± 0.1mm |
| 8. | Dissolution | NLT 75 % |
| 9. | Disintegrating test | NMT 10 min |
| 10. | Assay of Cefixime Eq. to Anhydrous Cefixime | 90%  To 110% |
 In process Controls And Procedures With Acceptance Criteria:-
1. In-process checks for mix powder:
Uniformity of mixing: By assay of active ingredient from different place.
2. In-process checks for granules:
Assay: (: 90%-110%f label claim)
Moisture content: By IR moisture balance (NMT 1.0 – 1.5 %)
3. In-process checks for uncoated tablets:
Draw samples at regular intervals during compression and check for:
Average Weight: At regular intervals (248 mg ±5 mg)
Uniformity of weight: At regular intervals: NMT ± 5% of average weight.
Hardness: At regular intervals (Not less than 3.0 kg/ cm2)
Friability: At regular intervals (Not more than 1%)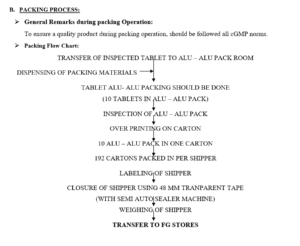 Packing Instruction:
a. Good manufacturing practices should be followed during the entire process of manufacturing including sampling and dispensing.
b. All the containers and equipments used for manufacturing shall be properly cleaned as per the relevant SOP.
c. All the equipments and containers should have proper status label with Product name, Batch No., Mfg. Date, Exp Date., etc.
d. All the equipments should be operated as per the relevant SOP's only.
e. All the measuring equipments and containers should be calibrated irrespective of the activity and use within the date of calibration as per the calibration schedule.
f. Weights of all the materials should be cross check by production personnel against dispensing label and dispensing sheet before taken up for packing.
g. Overwriting in BPR shall be strictly avoided.
h. All the activities should be carried out according to the respective BPR only. All the operations shall be carried out in clean and orderly manner.
i. Any deviation in process shall be in knowledge of QA In charge and prior approval of QA In-charge should be taken.
j. Critical parameters like temperature, Humidity and pressure differences should be checked and monitored.
k. In process controls should be carried out through out manufacturing operations as per relevant BPR
l. Ensure that all materials like raw materials, in process materials and finished product should be placed in respective areas with proper label to avoid mix-up.
m. Attach additional sheets wherever required
n. Attach system generated data recording sheets wherever applicable.
o. All the workers /Operators should be wear dust mask, gloves, cap and dedicated uniform.
p. Area must be cleaned.
q. All M/c must be cleaned.
r. M/c having green card or "Ready for Use".
s. All previous batch content must be removed.
t. All PM Should be approved by Quality Control Department.
u. Weight of dispensed PM must be cross verified by production and QA personnel.
v. PM contains green sleep.
w. Balance – daily calibration must be done.
  In-Process Control during Packing:
a. The material issue for packing is checked & the inspector puts his signature on the material issue slip.
b. Remove all previous material & Take line clearance to QA personnel.
c. After getting the final approval from the Q.A. Dept. for finished product, the tablets are taken for Alu – Alu packing.
d. Alu – Alu packing machine Temperature, RH, and Differential pressure etc. Are also checked.
e. During Alu – Alu Packing using 202 mm Plain Foil Alu-Alu (Silver colour) & Plain Aluminium Foil 198 mm.
f. Batch coding and other over printing like MFG., EXP. etc. is checked on foils, cartons & shippers etc.
g. Pocket cuts; Leak test, smudged printing, faulty Alu – Alu cutting, bridge rupture, missing tablet etc. are also checked.
h. Contents of the cartons, less number of Alu – Alu blisters, absence of pack inserts etc. is checked at random on the packing line itself.
i. Check the Alu – Alu for defects.
j. 10 Tablet packed in each Alu – Alu.
k. 192 cartons packed in each C.BOX.
l. On completion of packaging of the batch inform to Q.A. for the Terminal Inspection.
   Practical Yield During product manufacturing :-
| | |
| --- | --- |
| PROCESS | MINIMUM YIELD |
| Granulation & drying | 99.7 % |
| Compression | 99.1 % |
| Packaging | 98.5 % |