sop for outsourcing
1.0 OBJECTIVE:
1.1 To lay down a Procedure for outsourcing.
2.0 SCOPE:
2.1 This Standard Operation Procedure is applicable to outsourcing
3.0 RESPONSIBILITY:
3.1 Officer / Executive- QA shall be responsible for monitoring this SOP.
3.2 All department head responsible for implementation of this SOP.
3.3 Head – QA or his designee shall be responsible for implementation and compliance with SOP.
4.0 ACCOUNTABILITY:
4.1 Head – QA



5.0 PROCEDURE:
5.1 For outsourcing activity agreement is required between outsourcing agency and abc company
5.2 Primarily send the questionnaire to the outsourcing agency as per annexure-1 and after receiving from
agency evaluate the questionnaire.
5.3 After evaluation of questionnaire concern person shall be audit the outsourcing agency facility or office
and prepare the audit report and send to abc company management for approval.
5.4 After approval prepare the agreement as per required work.
5.5 All job work and related terms and condition should be in written and dully signed in annexure-3.
5.6 After completion of one year concerned department head/designee will assessed the work of outsourcing agency and make a report.
6.0.      ABBREVIATION:
| | | |
| --- | --- | --- |
| S. No. | Abbreviations used | Full form of Abbreviation used |
| 1. | SOP | Standard Operating Procedure |
| 2. | QA | Quality Assurance |
| 3. | No. | Number |
7.0. ATTACHMENTS (ANNEXES):
Annex-I : Evaluation Questionnaire for External service provider
Annex-II : External Service Audit report
Annex-III : Contract with External service provider
Annex-IV : External Service provider assessment report
8.0. REFERENCE :
| | |
| --- | --- |
| S. No. | Reference Title |
| 1.0 | In house |
Annex-I : Evaluation Questionnaire for External service provider
(To be filled by the external service provider)
Name and Address of the agency:
Name of the In-charge of the agency:
Phone No.: Fax No.:
E-mail: Date:
Contact Person (if other than agency In-charge):
Accreditation by [Name of Agency like ISO, National Accreditation Board for Testing Calibration Laboratories (NABL), BIS etc.]:
Organizational membership (if any):
S. No.
Qualification Aspects
Yes/No/N.A.
Remarks (if any)
Organization and Management
1.
Is the Agency organized in such a way that confidence in its independence of judgments and integrity is maintained at all times?
2.
Does the Agency provide supervision by persons familiar with the test methods and procedures, the objectives of the testing and the assessment of the results?
3.
Does the Agency have a technical manager who has overall responsibility for the technical operations?
4.
Does the Agency have a quality manager who has responsibility for the quality system and its implementation?

5.
Is the quality system reviewed at least once a year by the management to ensure its continuing suitability and effectiveness?
6.
Does agency procures outside services or supplies?

7.
Does qualified person receive equipments?

8.
Is any documentation or coding used to track a equipment received for calibration?
Quality Control Manual
9.
Does the Agency maintain a Quality Control Manual or any other appropriate system containing, as a minimum, the following:

a. a quality policy statement, including objectives and commitments, by top management,

b. the organization and management structure of the Agency,

c. the relationship between management, technical operations, support services and the quality system,

d. procedures for control and maintenance of documentation,

e. job descriptions of key staff and reference to the job descriptions of other staff,

f. identification of the Agency's approved signatories,

g. arrangements for ensuring that the Agency reviews all new work to ensure that the Agency has the appropriate facilities and resources before commencing such work,

h. reference to the test procedures used,

i.  reference to procedures for calibration, verification and maintenance of equipment,

j. list of codes and standards maintained for reference by the Agency, and

 k. procedures for audit and review?

Personnel
10.
Does the Agency have sufficient personnel, with the necessary education, training, technical knowledge and experience for their assigned functions?
11.
Are records on the relevant qualifications, training, skills and experience of the technical personnel maintained by the laboratory?
12.
Is there a training program described in the Agency's written practice?
13.
Are eye examinations required for all inspection personnel?
14.
Are outside agencies used for training and examining personnel?
Facilities and Equipment
15.
Are the facilities, equipment, instructions, and specifications adequate for the type of work to be performed?
16.
Are adequate procedures in effect to control the maintenance, calibration, and use of equipment including applicable tools, gauges, and other instrumentation?
17.
Is equipment (tools, gauges, and other instruments) identified to reflect:

a. date last calibrated,

b. date of next calibration, and

  c. identification or serial number?

18.
Is the environmental condition of laboratory maintained and recorded?
19.
Equipments/Instruments available for testing (give list along with their manufacturers).
20.
Is there any schedule for performing calibration of equipments?
21.
Are internal standards used for calibration traceable to any National / International Accreditation Agency?
22.
Are there written procedures for operation and calibration of instruments?
Project Administration and Documentation Procedures
23.
Are contract requirements reviewed to ensure specification compliance with applicable codes, standards and specifications?
24.
Are inspection and test results documented and reported as required?
25.
Are the results of each test, or series of tests, reported accurately, clearly, unambiguously and objectively?
26.
Does the Agency have the ability to provide inspection services at offsite fabrication facilities?
27.
Is there any instrumentation-training programme?
28.
What is the proposed lead time for reporting of results/ dispatch of results?
29.
Is there any preventive maintenance programme for instruments?
30.
Are all data (final report and related raw data) reported to client?
31.
Does agency retain records of original observation, derived data and test records?
32.
Are records legible, readily retrievable and have a procedure for backup of records stored electronically?
33.
Are all the tests being performed as per client's requirements?
34.
Are the testing reports signed and dated by analyst?
35.
Are the testing records counter checked / signed by Incharge before dispatch of report?

36.
Does the laboratory have procedures to control all documents forming part of quality system e.g. regulations, standards, test methods, specific instructions, etc.

37.
Are all documents issued to personnel in laboratory, reviewed and approved by authorized personnel before issuing?

38.
Are written procedures/test methods reviewed and updated?

39.
Are written procedures for calibration of equipments if received from client properly documented?

40.
Is there a protocol that requires the client to be notified of changes made to test procedures?

41.
Is there any procedure for informing the client in case any equipment is failing in calibration and any remedial action that can be taken?

For pest control
42.
MSDS is available
43.
Persons for pest control is trained
44.
Certification and other relevant information are available.
45.
Agency maintain all government of india regulation.
46.
Pesticide usage logs is available
Annex-II : External Service Audit report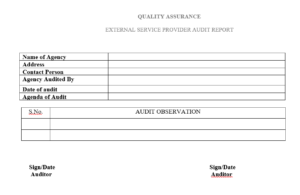 Annex-III : Contract with External service provider
Annex-IV : External Service provider assessment report
Online Rejection in parenteral
Receipt of Batch from Production to Packing Department
sop for for Spillage Handling in parenteral area
sop for calibration of vessels with dipstick
sop for Cleaning of Bins and Containers
cip of mixing vessel and holding vessel
sop for Cleaning of Ampoule Filling and Sealing Machine
sop for Fogging in Sterile and Non Sterile Area
sop for for Filtration of Bulk Solution
sop for fumigation in production area
sop for post cleaning after media fill
sop for cip of mixing vessel mixing mobile vessel and holding vessel
sop for De-Bagging of Three Piece Vial Dropper Caps
sop for calibration and verification of check weigher
sop for Batch number and Manufacturing and Expiry Date Coding System
standard operating procedure machine history file
sop for operation and cleaning of Hand coder
sop for Cleaning and Handling and Silicone Tubes
sop on operation and cleaning of coating pan
sop for Operation of cleaning of pipe lines
sop for operation of capsule loading machine semi automatic
sop for Machine operation capsule inspection and polishing machine
Sop batch demarcation and batch coding
sop for monitoring of reprocessing of products
sop for in-process control on liquids orals
sop for in process controls on tablets capsules packaging line
sop for Issuance retrieval and destruction of BMR and analytical records
sop for in process controls during granulation compression coating inspection
sop for Cleaning of Blister packing machine
sop for for charge hand over between the shifts
Performance requalification report of visual inspectors
sop for Cleaning and operation of ROPP caps inspection table
sop for usage and destruction of filter pad and cartridge filter
sop for cleaning and storage of transfer pipe
sop for Cleaning and operation of labeling machine
Cleaning and operation of the mono block filling and sealing machine
sop for Cleaning and operation of empty bottle inspection table
sop for Cleaning and operation of filter press
sop for cleaning and operation of liquid transfer pump and line
sop for cleaning and operation of storage vessels
sop for cleaning and operation of sugar syrup manufacturing vessel
sop for cleaning issuance and retrieval of accessories and change parts
sop for Cleaning and operation of visual inspection conveyor belt
sop for Cleaning and operation of spray gun and assemble
sop for Fogging in Aseptic and Non Aseptic Area